I know that somewhere in my life, I have enjoyed the xXx films. I have watched the first two installments on free TV. I was around 9 that time and wasn't so bright. I watch movies for the ka-booms and all sorts of noise; that was me back then. That's how I started. Years passed and I went on to love and appreciate the art of film. I was down the lane of being into Nolan films. I grew up watching films and thinking about it later for hours or days and talking and reading about it in the internet with people from around the globe. So this year, 2017, xXx released a third film and I was like really? I didn't bother checking any trailer. This time, the action set pieces in the previous films are completely washed out off my mind. Those scenes really won't last even a couple of months in my brain. It's basically forgettable.
So,  I watched the film in a digital copy with Chinese subtitles taking up 40% of the screen. I don't promote piracy. It was a downloaded file I found on a friend's flash drive labeled as "videoplayback.mp4". I checked it out and realized it was the xXx: The Return of Xander Cage movie. I copied it and watched it a week later. It started with Gibbons and Bisping… Bisping? Where did I… Right. I once watched a lot of UFC.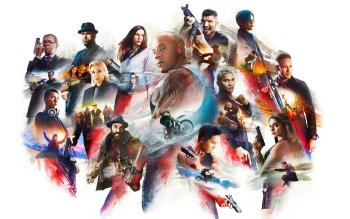 So, it started with Gibbons played by the legendary Samuel L. Jackson blowing up and apparently dying before the title card. I mean, I was ready to sit through this film because he was in it but a few lines and boom. Then, we are introduced to a set of characters that doesn't seem right since this is already a third film. We should've built up something right? The film even thought it needed to introduce Xander again by giving him a quite enjoyable sequence. So, the film is even aware that we have forgotten about what happened in the previous films. We have Donnie Yen being a Donnie Yen character, an Asian, a hot Indian chick, another Asian, a guy, Nina Dobrev, and a sniper; or at least that's how I remembered them. I watched this film less than 72 hours ago and there's an episode of CW's Supergirl after it and I can't remember the characters.
The film revolved around I think a satellite? I can't even remember. I won't bother checking it out. I'm offline. I'm typing this one on my phone. I think it has something to do with controlling a satellite via a device. The scenes are jumbled in my mind but there was a funny scene where Xander deduced that he was surrounded by a fake SWAT (?) team with rubber bullets then they went to the Philippines but it never looked like the Philippines at all so, as a Filipino, that's a bummer. I loved the scenes with the sniper but the sniper itself is average, at most. I didn't buy Donnie Yen as an antagonist for the first half of the film so it didn't really matter when he teamed up with the main characters. In the final act, there were bullets in a warehouse and a plane on zero gravity. It's not hard to imagine what happens except for a Jar Jar Binks moment with Nina Dobrev's UZI. This is how ridiculous the movie is. I will not try to talk about that element of the movie because my battery's under 20% and it won't be enough so checking this movie out would be a better way to understand all of this.
Throughout the film, I suspected that one of the characters will turn heel and my money was on the hot Indian chick but turns out it was their boss and it should've at least shake some ground but it never did since there are zero grounds to shake. Even though Gibbons died even before the film kicked off and Ice Cube made a grenade launching cameo in the final act, it didn't really matter. It only served as a treat for the fans, if there was any.
"The plot of the movie is the action."
This is a common for most action movies so this is not the first and won't be the last. As a moviegoer, I have mentioned this somewhere, I would rather go to loud action films so these kinds of films will really grab butts into theater seats. I may not be into these kinds of films but I highly recommend this for movie nights tell you to check this out on free TV.
Featured Images Credits:
fanart.tv/fanart/movies/47971/moviebackground/xxx-return-of-xander-cage-5861a67eccbf5.jpg
images.alphacoders.com/791/thumb-350-791200.jpg
dnaindia.com/sites/default/files/2017/01/08/536415-510881-xxx-deepika-padukone-vin-diesel-trailer.jpg
thunderclam.files.wordpress.com/2017/01/xxx-return-of-xander-cage-trailer-000.jpg?w=490
filmsa.ga/uploads/thumbs/ea56c4467-1.jpg
bp.blogspot.com/-Cobprq_wS7E/WIpXi5wGghI/AAAAAAAABxk/5NV_-6aRbpMUR-vw6LQ2KBh2w67DMxwcACLcB/s1600/xXxReturnOfXanderCageAKABestFilmEver.jpg